LEAD Childcare Mango Hill
LEAD Childcare Mango Hill is the practical placement centre of choice for all Lead Institute students. The service was awarded an EXCEEDING Rating against the National Quality Standards in September 2019!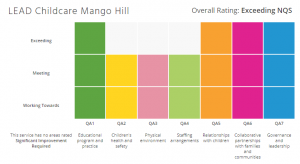 We are very proud of this recognition and applaud the Mango Hill team for their continued efforts and drive in delivery high quality care and education. It is so important that students learn best practice, inside and outside the classroom and we are thrilled to have world class facilities for students to learn hands on skills.
LEAD Childcare Mango Hill features:
A swimming pool with dedicated instructors
Atelier 
Home cooked, nutritious meals
Vegetable Gardens