The Australian Industries and Skills Committee expects strong growth over the next five years. Early Childhood (pre-primary school) teacher jobs will experience the largest relative growth in the sector, growing by 22% by 2023. Child care centre managers are also expecting a 20.9% growth by 2023. (Source 1)
Many child-care providers like LEAD Childcare desire to operate at best practice. In order to do so, high-quality and educated workers are needed.
With State and Territory Governments committed to providing universal access to early childhood education, there is only anticipation that enrolment growth will increase. Demand for teachers, carers, and managers is on a steady rise Australia-wide.
What is Lead Institute's role in all this?
Lead Institute has the benefit of working in tandem with LEAD Childcare across Queensland. Not only do we provide high quality childcare courses that are specifically designed to meet current needs, but we actively work to address future industry demands.
Invest in your future and the future of young Australians.
Ready to Lead?
If you have qualifications in the provision of childcare, you have access to a large number of job opportunities in a variety of roles and settings. Take a look at our Diploma of Early Childhood Education and Care to learn more about how you can secure a rewarding job and make a positive impact on the next generation of learners.
By studying a CHC30113 Certificate III in Early Childhood Education and Care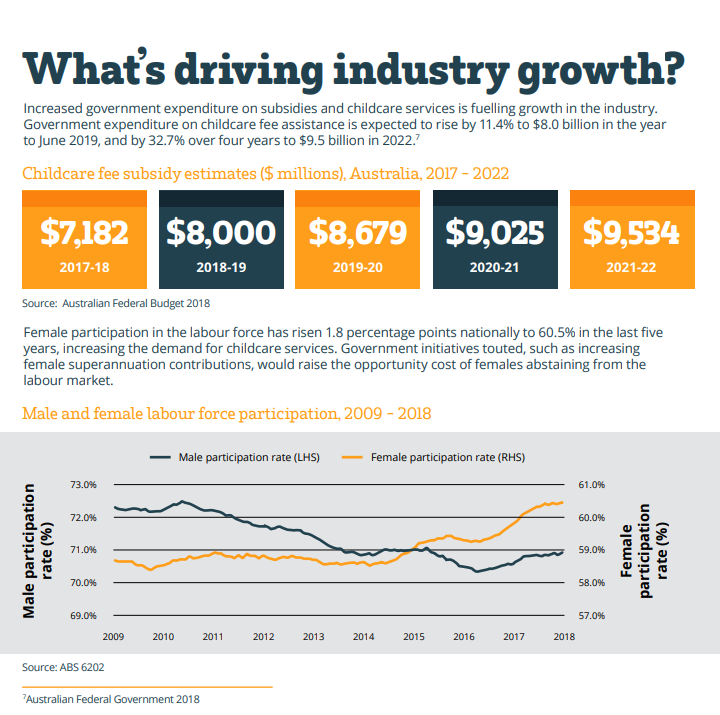 Source 2
Source 1: https://nationalindustryinsights.aisc.net.au/industries/community-services/childrens-education-and-care
Source 2: https://www.bankwest.com.au/content/dam/bankwest/documents/business/insights/focus-on-childcare-report-2019.pdf